Brentwood Bay Village Empourium
#12-7031 West Saanich Rd. Brentwood Bay BC
V8M 1R1
Contact Details
Brentwood Bay Village Empouriu
info@empourium.ca
(778) 351-0178
Booking Contact
Hours:
Mon - Thu & Sat 7am - 5pm, Fri 7am - 9pm, Sun 9am - 4pm
By day a cafe/gift store/art gallery for high quality coffee, great food, gifts, apparel, jewellery, decor, cards, art & more; by night a venue for public gatherings: live music & entertainment, parties, meetings & social evenings.
Venue Specs
Venue Format
Restaurant / Cafe / Pub
Liquor License
Licensed (minors allowed)
Capacity Notes/Details
Licensed for 30 patrons
Rentable / Hosts Outside Events
Yes
Rental / Usage Restrictions
Our liquor license restricts us to 30 patrons but we can legally expand our seating capacity to 50 patrons without alcohol.
Soundsystem Details
Basic small venue sound system
Wheelchair Accessible?
Yes
Accessibility Notes
Mens' & Women's handicap access washrooms
Amenities
Handicap access washrooms, espresso bar,
Lighting / Projector Specs
Basic stage/uplighting/projector
Parking Notes
We're located in a mall - lots of free, accessible parking


Listed Under:
Music Venue

Listing last confirmed: Jan. 3, 2019
Articles
Videos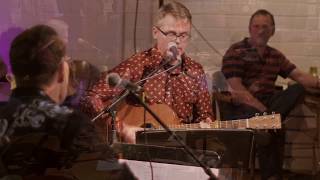 Posted: Jan. 14, 2019
Filmed: Dec. 7, 2018