Furniture Party
Available for Shows/Gigs
- Confirmed:
May. 13, 2019
Alternative Rock from Victoria BC
Tracks (1)
We are a five piece alternative rock group that plays original music.

What exactly is a Furniture Party? Honestly, no one knows, but what we do know is that Furniture Party is an exciting rock band that is sure to grab your attention. Featuring the talent of five different members, you can expect to see an immense variety in their set. From Pop-punk to Latin rock and Blues rock, Furniture Party is by all accounts a band.
Audio Samples
View all tracks for this artist (1)
Articles
Videos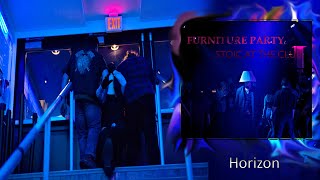 Posted: Feb. 15, 2019
Filmed: Jan. 29, 2019
Current Lineup
| Name | Role | Dates |
| --- | --- | --- |
| Jess Gibbard | Vocals / Guitar / Bass / Keyboard | 2017-present |
| Matthew Groeneveld | Vocals / Guitar / Bass | 2017-present |
| Jordan Oliver | Guitar | 2017-present |
| Brett Rose | Drums | 2017-present |
| Patricia Garner | Vocals | 2018-present |
| Lampson | Mascot | 2019-present |
Status:
Available for Shows/Gigs
We are always open to playing shows, so feel free to message us about playing with your band or for your venue! - Last confirmed May. 13, 2019