| | |
| --- | --- |
| | |
no upcoming shows listed (solo, or for current projects)
Rhonda Aikin
Confirmed:
Jun. 1, 2016 (Archived)
Rhonda Aikin comes from a very musical family and has been singing from childhood, professionally since her teens. She comes by her talent naturally with sisters that all sang, a father who was a well respected Western Canadian jazz guitarist and even an uncle was a staff guitarist for the C.B.C. in Toronto, playing regularly with Oscar Peterson. Rhonda sings in duos, bands and has done many hours of session work on multiple recording projects. Although trained at an early age, Rhonda decided in 2008 to teach singing and enrolled in months of vocal/teaching techniques before signing on with Long & McQuade's Music Education Centre. Her approach is one of encouragement and experience teaching many musical styles including pop, blues, rock, soul and more with an emphasis on breathing techniques, ear training, microphone techniques in a live setting, and pitch control. Rhonda has been seen many times performing for the Victoria Jazz Society at their annual "Vancouver Island Blues Bash" in Victoria's Inner Harbour to huge crowds of spectators and always "brings the house down". The power & range of her voice are a focal point of her group "The Push Band". Lately she's been trying her talents as part of a backup singing duo garnering rave reviews and thunderous applause. Photo by Sandy Grant.
No audio samples have been linked to this profile.
Articles
Videos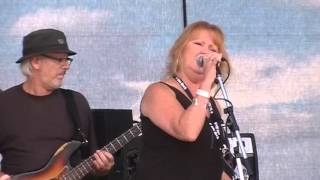 Listing last updated/confirmed Jun. 1, 2016