| | |
| --- | --- |
| | |
Bijoux du Bayou
Available for Shows/Gigs
- Confirmed:
Apr. 27, 2018
Label: Independent
Cajun, Zydeco and Texmex from Victoria BC
Formed in 1997 Bijoux du Bayou continue to entertain around Vancouver Island and points beyond. We deliver a powerful mix of great all ages party music with a focus on Cajun and Zydeco both our own and some covers. Check us out on youtube, leave us message on facebook or call me anytime.
No audio samples have been linked to this profile.
Articles
Videos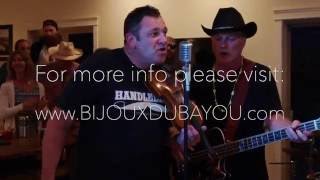 Current Lineup
| Name | Role | Dates |
| --- | --- | --- |
| Mike Regimbal | Fiddle,Mando, scrub, vocals | 2011-present |
Status:
Available for Shows/Gigs
BIJOUX lite for your smaller parties, meetings, etc. Full on BIJOUX du Bayoux is a great all ages band. We play high energy recognizable Canadian music with rooms in Acadia and southern US, featuring Accordian, fiddle, and instrumentation you would expect for a cajun/zydeco band. - Last confirmed Apr. 27, 2018