Bluegrass Fever
Available for Shows/Gigs
- Confirmed:
May. 31, 2018
Label:
Independant
Bluegrass from Chemainus BC
One of Vancouver Island's most popular bluegrass bands, Bluegrass Fever features Barrie Hemmings on banjo and vocals, Guy Langlois on upright bass, Jan Norton on fiddle and Bob Johns on guitar and vocals.
No audio samples have been linked to this profile.
Videos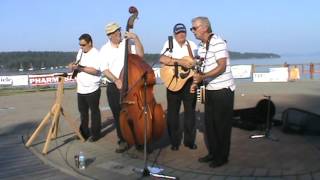 Current Lineup
| Name | Role | Dates |
| --- | --- | --- |
| Bob Johns | Guitar & vocal | 2010-present |
| Barrie Hemmings | Banjo & vocal | 2010-present |
| Guy Langlois | Upright bass | 2011-present |
| Jan Norton | Fiddle | 2015-present |
Status:
Available for Shows/Gigs
- Last confirmed May. 31, 2018